This blog will be discussing the best IPTV players for Windows 10, 8, and 7, which can bring any TV channel from around the globe to your door.
Until now, television was viewed primarily through broadcast channels, satellite dishes, and fiber optic cables.
With the rapid growth in the Internet and smart devices market, it is now possible to watch TV channels from your desktop computer.
Thanks to the Internet Protocol TV services, also known as IPTV. An IPTV player can be used to view entertainment TV shows, video-on-demand channels, and many other TV programs. The IPTV Players can help you improve your entertainment.
IPTV Player allows you to stream all types of TV shows and movies from anywhere in the world, no matter where you live or where you come from. All you have to do is sign up and log in. You can then watch your favorite TV shows or movies without any hassle.
Before we get to the list, let us first explain what an IPTV Player is, how it works and why you should choose the best one for your computer. You'll learn more about the best Windows IPTV Player later.
VLC is a cross-platform, open-source multimedia player and framework. This IPTV player is widely acclaimed and deserves no introduction. This open-source multimedia player can manage all of your local media and stream IPTV content without any security or privacy concerns. It uses m3u files for streaming IPTV and other multimedia content.
How do I use VLC Media Player?
You only need the most recent version of VLC. Follow these simple steps to stream IPTV directly into your VLC player.
Launch VLC Player
Open Network Streams are available in the Media section.
Enter the URL for the IPTV network, and hit Enter.
You should now see all your IPTV channels in the left panel.
VLC Media Player Key Features:
It supports a variety of streaming protocols, multimedia files, DVDs, and CDs.
Built-in codecs – MKV, MP3, MPEG-2, WebM, etc.
Absolutely free of computer viruses, spyware, and harmful ads
High compatibility with Windows, Mac, Linux, and mobile platforms.
VLC Media Player has a simple interface, making it one of the most user-friendly IPTV players.
2. IPTV
It is currently ranked among the top IPTV players for Windows computers and laptops because it allows you to enjoy your favorite TV shows and digital channels through multiple live media sources free of charge.
The IPTV app does not broadcast these media sources, but it offers a platform to watch IPTV content.
How to Use IPTV
Use the steps below to stream IPTV from your PC:
Start the IPTV App on your Windows laptop or computer.
Navigate to the Settings tab
To load your M3U playlist, enter the URL provided by the IPTV provider.
To stream your favorite channel, click on OK
The Key Features of IPTV
It has an intuitive user interface that is perfect for everyone
Streaming is easy with playlists or EPG sources.
You can simply copy and paste URLs to search with it
A huge selection of channels available to satisfy every user
It also features an intuitive interface that provides a modern TV experience. This IPTV player can be downloaded free of charge from the Microsoft Store.
3. Kodi
Kodi, another amazing application, allows you to watch local media content and also acts as an alternative to IPTV Player for Windows PC. It also allows you to access your favorite digital channels via its media player.
To stream live TV or view videos on demand (VOD), you can also install third-party addons.
How do I use Kodi?
To use Kodi for Windows 10 as an IPTV player, follow these simple steps:
Start the Kodi app and choose the "Settings" option.
Install the PVR IPTV Client add-on to your Kodi app.
Add the M3U playlist as an add-on to streaming IPTV.
Wait for the PVR IPTV Easy Client add-on. This will complete the process of importing channels.
Once you have done that, click on the 'Play' and 'OK' buttons to select the channel.
The Key Features of Kodi
The interface of the player is simple and intuitive.
You can easily paste the URL into the software to view any program. It will then show all results
It has the best cross-compatibility capabilities
You can easily modify any part of the player, as it is completely customizable
Kodi Media Player is a great free program. It offers a simple interface and exceptional streaming capabilities.
4. Perfect Player Windows
Perfect Player Windows is an IPTV player you can free-of-charge try. The player delivers amazing digital content directly to your computer without any fees. This is why it is the best IPTV players for Windows 10 and older versions. This program is highly advanced and comes with a semi-transparent OSD as well as a full-screen display option.
How to use Perfect Player Windows?
These are the steps to use Perfect Player as an IPTV/Media player.
Start the Perfect Player app on your Windows system.
Click on the "Add Playlist" button, then paste the M3U URL and click 'OK".
Once your playlist is loaded, click on the channel name followed by 'Play' to start streaming IPTV content.
The Key Features of Perfect Player Windows
It is easy to set up and can be used as needed.
Even better, you can enjoy full-screen displays for your favorite content with no additional charges
This player is available in multiple languages. It allows anyone to stream their favorite content from anywhere on the planet. English, Spanish and Russian are supported, as well as Greek, Portuguese and other languages.
The player supports m3u and XSPF for playlists and EPG.
5. Simple TV
Simple TV is the most popular and widely used IPTV player for PC. This free and easy way to view TV and other multimedia content from your computer or laptop are convenient.
This portable application can be used to listen to radio stations and watch IPTV. It has an intuitive interface that allows you to browse IPTV channels.
How to Use Simple TV
Follow these simple instructions to use Simple TV as an IPTV player on your PC.
Start SimpleTV on your Windows device.
Right-click "Playlist" on the navigation bar, and choose the "load playlist" option.
Next, select the "load from m3u" option.
After the playlist has been created, you can simply click on the channels to play them.
The Key Features of Simple Television:
Capabilities for snapshots and crop features
Volume adjustment, contrast, and brightness functionality
It can also download playlists made by other users
It supports LUA script and many other features
6. Progdvb/Progtv
ProgTV, another IPTV application for Windows is used to stream live TV channels and listen to the radio on your PC.
It can be used with two different interfaces. It is well-known for its ease of accessing digital content and user experience.
Remotely control your Home Theatre PC via ProgTV. It also works well with a mouse. ProgTV supports IPTV channels and Internet TV and radio, Rodina TV, and Sovok TV. It also supports DVB–S, DVB–S2, DVB–T2, and many other data sources.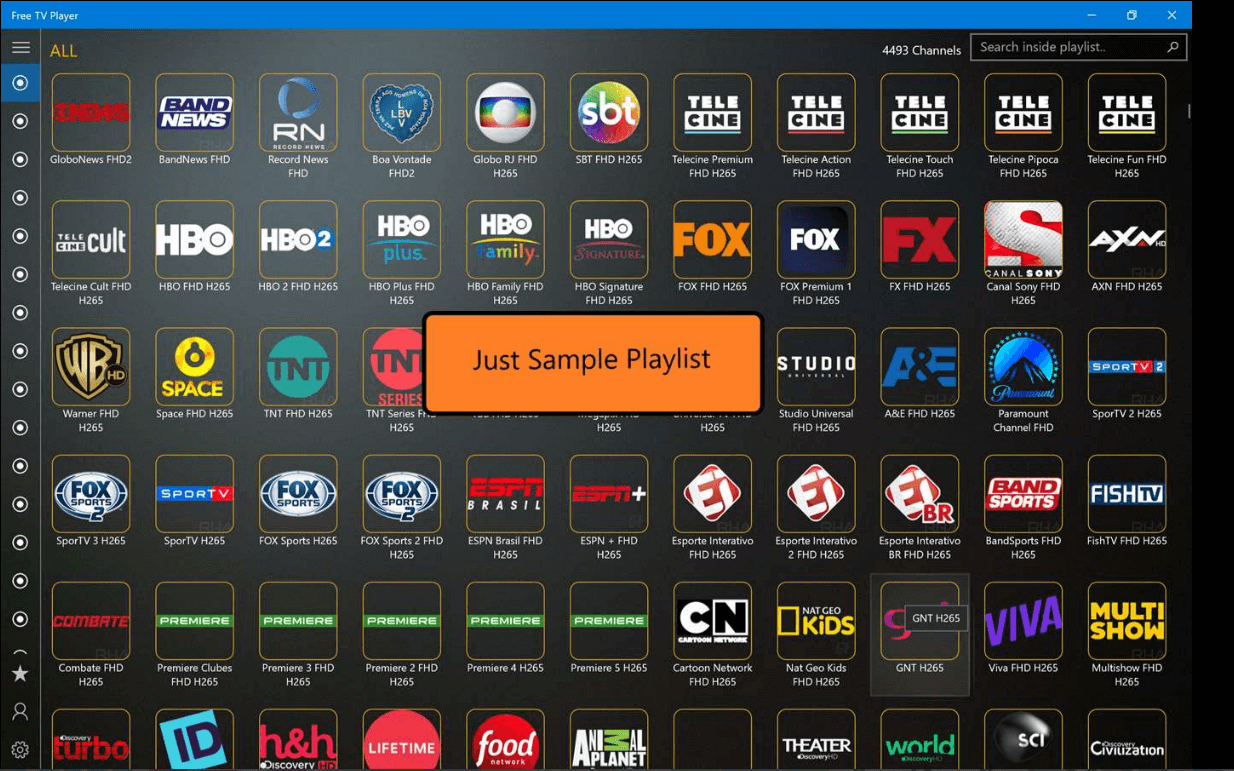 How to use ProgTV/ProgDVB
You can follow the steps below to set ProgDVB and ProgTV apps up as IPTV player Windows.
Select the "TV Sources" option from the main menu in the ProgTV app.
Choose the IPTV Client option, then enter your M3U URL into the playlist box.
Next, select the channel that you want to watch from the "Channel list" menu.
ProgTV/ProgDVB Key Features:
Recording radio and television channels
Network Broadcasting and Teletext
HDTV support
A preview of Mosaic channels and 10 Bands equalizer
7. GSE SMART IPTV
This IPTV solution is the most loved to stream digital channels and TV shows from your mobile device. GSE Smart IPTV was originally designed for mobile platforms like iOS and Android. However, you can use an emulator to make it work on Windows 7/8/8.1/10 computers.
To make this IPTV app work on Windows, you need to first install BlueStacks. BlueStacks, a popular emulator that allows Android OS-based applications to run on Windows or macOS devices, is very popular.
How to use GSE SMART IPTV
Here are the steps to use Smart TV Player on Windows PC.
Start BlueStacks, then log in using your Google credentials.
You can download GSE Smart IPTV app either from Google Play Store or by clicking the link below.
Open the application after installing it.
Enter the URL to upload your M3U playlist.
Click on "OK" to watch any IPTV channel live.
GSE SMART IPTV's Key Features
Multiple themes are available for GSE Smart IPTV Player Windows.
It offers effective parental control options to manage screen time and the activity of children.
You can add subtitles to stream IPTV content.
You don't have the money to pay for your monthly TV subscription. We have you covered. Here is OttPlayer, one of the most popular IPTV players for Windows 10. IPTV stands for Internet Protocol Television.
OttPlayer allows you to watch all your favorite TV channels and shows free of charge using your computer and the internet. OttPlayer lets you watch IPTV on your internet provider, your TV, or other sources from your mobile devices, tablets, or set-top boxes. All this is controlled via a single website. Enjoy IPTV Enjoy life.
How do you use OttPlayer?
Follow these steps to set up OttPlayer and stream your favorite IPTV channel:
You must first create a list to identify channels that you can access from all your sources.
You will need to create an account at https://ottplayer.es
Put registration info i.e. Login and Password
Save the playlist to the website. http://ottplayer.es
Play the playlist on any device compatible
Enjoy IPTV viewing
OttPlayer's Key Features
OttPlayer supports many protocols, including HLS, RTSP, and TS by UDP RTMP
It also supports playlist support M3U8.
Allows you to easily manage channels using icons for the channels.
The service to users is completely free and without any ads
This application is one of the most interesting and useful IPTV apps. OttPlayer's intuitive interface makes it a great choice for millions across the globe.
Are you looking for the best IPTV player for Windows? MyIPTV is a perfect choice. All of its high-quality features are available for free. This allows you to play live TV and videos via m3u playlists very easily. Its interface is very easy to use.
How do I use MYIPTV
These are the steps you should follow to get it.
Go to the Settings.
You will now need to create a new playlist and an EPG source.
Add any URL or local channel list.
Go back to Settings
Next, select the channel playlist and click the refresh button.
MYIPTV's Key Features
You can stream TV shows and videos live with the player
It has an easy-to-use interface that can be used by everyone
The settings tab allows you to add a new playlist or EPG source.
You can easily record your program and have it available for later reference.
10. IP-TV Player
IP-TV Player is another excellent choice as it provides high-quality video output with very low data consumption. This is a rare occurrence among IPTV players on Windows. This versatile player can support almost all media types.
How do you use IP-TV Player?
IP-TV Player is an easy-to-use and smooth software. We have shown the steps below.
Download the software from the official website
Open the software, and then tune to the M3U format list
The side panel shows the channel list.
To view the channel, tap on it
The Key Features of IPTV Player
The interface is simple and intuitive.
This software is compatible with all major file formats
The user can quickly record and take screenshots of the page while it is being viewed.
The software even has a feature that allows users to control their smartphone from within the software
Plex is one of the best IPTV players that you should use to stream smart video. Plex can transcode almost any type of media file. The user interface is very simple and easy to use. Plex allows you to stream your own content, including music and videos.
How to Use Plex
Here's how to access Plex for IPTV on a PC.
First, create a Plex account. Next, run the setup file to install the Plex media servers.
After that, launch Cigaras IPTV Channel and then select Channels from the Online Content Head Category.
Next, navigate to IPTV Addon and click it. Click on Settings.
Copy the URL to your IPTV.m3u file and then click the Save button.
Next, find the available channels and add them to your Playlist.
Plex's Key Feature:
This player can be used on multiple platforms
It delivers high-quality video output on every screen
More than 200 movies and shows are included in your free movie or show subscription
You can also get a free version with 100+ channels
TiviMate is next on the list of Windows IPTV Players. This software is designed to work with Android devices. You will need an Android Emulator to be able to use the software. This software can be used on Windows 7, 8, and 10. This is a brief overview of the software.
How do you use TiviMate IPTV player?
You can find out more information about how to use the software below.
Download the software from the Playstore.
When the installation is complete, click on the icon.
Click on the icon to search for the name you want to watch
TiviMate's Key Features
It has a simple and clean interface that is easy to adapt.
To view multiple playlists, the user can add them to the software.
It can also program a TV guide
You can add your favorite channels to your home screen, and you can access them from there
13. My lPTV player
My IPTV is another media player that includes an electronic programming guide (EPG ). This allows you to watch the top IPTV channels from your Windows PC or laptop.
You can use My IPTV app to listen to online radio channels and watch digital TV and video-on-demand (VOD) if you have an active IPTV subscription.
How do I use my IPTV player?
Follow these simple steps to set up My IPTV on Windows.
Lunch My IPTV from your Windows laptop or computer.
Navigate to the "Settings" menu.
Load your playlist in m3u, then select the IPTV channel you prefer, and click OK.
The Key Features of My IPTV
The software supports multiple channels easily
All channels are automatically grouped according to their genre.
A PIN is a simple way to protect your data.
For adding new channels, the player can follow a simple procedure
It has an intuitive interface that allows you to stream your m3u playlist seamlessly from any location, local or remote. You can get the My IPTV App from the Microsoft Store free of charge.
This player was unavailable for Windows users in the past, but Windows users now have access to their favorite content via IPTV Smarter for Windows players. This app is the best IPTV app for Windows 10 and older. It is easy to stream live TV, movies, series, and videos on demand.
How to Use IPTV Smarters on a PC?
Here are the steps to set up IPTV Smarters on your PC.
Start the IPTV Smarters Player app.
Click on the "Load Your PLAYLISTS or File/URL" option. Fill out the details (e.g. playlist name, playlist type, and file/URL) and click on the "Add User" button.
After the M3U content loading has been completed, click on the "Live TV" button to view the IPTV channel categories.
The Key Features of IPTV Smarters For PC:
This program can be used with Xtream codes, but it can still be used in Windows 32-64 bit versions.
This program can also be used on Smart TVs and mobile devices.
You can also record live programs and listen whenever you like.
This IPTV player's best feature is its support for all major video formats. You won't be missing any of your favorite content.
15. Free TV Player
The Free TV Player gives you easy access to your favorite TV channels, movies, and Internet Radio. It is one of the most popular IPTV players for Windows.
To watch live TV on your computer or tablet, upload your M3U playlist.
How to Use a Free TV Player
Here are some easy steps to set up Free TV Player on your desktop computer and stream IPTV:
Start the Free TV Player App on your device
Enter the URL for the M3U playlist that was provided by your IPTV service provider
Click on the play button and choose your favorite channel.
The Key Features of the Free TV Player
You can choose from a paid or free plan.
The free plan includes more than 40 channels
You can also paste links to stream and stream other than the default channels.
The player comes with a list of shows that it can stream.
If you are looking for a lightweight, free IPTV player that is easy to use, this one is a great choice.
Frequently Asked Questions (FAQs).
What is an IPTV Player?
IPTV Players allow you to access IPTV channels via your IPTV subscription. They do not host any content, nor offer any streaming services. They facilitate playback.
What are the Best IPTV Players for Windows?
There are many IPTV players out there. VLC Media Player and Kodi are the best for Windows. Plex is also a great option. These IPTV players can be trusted and are safe to use.
Why choose IPTV?
IPTV offers consistent, strong delivery of media content. This is one of the greatest benefits. IPTV is not like other media streaming. You don't need to worry about buffering and weak signals.
Tech Arrival & Astute Links was founded by Mehul Boricha. He is a Junagadh, Gujarat, India-based computer and smartphone enthusiast. He is a Computer Engineer by Education and an Entrepreneur by Passion. He is a technology geek but he also loves audiophiles and connecting with people.
You agree to the Privacy Policy by submitting the comment form.
Is IPTV Illegal?
IPTV stands for Internet Protocol Television. These devices can be used to view paid subscription channels and are legal. However, streaming illicit content is illegal.
Is IPTV Safe?
You should be aware that IPTV services are safe to use if you're a first-time subscriber. Make sure you only subscribe to an IPTV provider that is verified.