Do you want to know the best free brushes Photoshop effects you can use to take your design to the next level?
The appeal of Photoshop brushes is that they save you time and allow you to quickly and easily create your unique work. Using the brush means you don't have to create design elements from scratch, you just need to select and create your favorite Photoshop brush.
What is Photoshop brushes
Brush sets are basically collections of high-resolution scans of real-life brush strokes, which can then be converted into brush tools, which can be installed in the user's Photoshop and used as a stamping.
How to Install & Use Photoshop Brushes
Photoshop brush allows you to express your creativity in a completely new way. There are hundreds of Photoshop brushes available for download, you are really spoiled for choice, so there is more than enough to pick from. Here is a quick tutorial on how to install the best free brushes Photoshop effects.
Download the Photoshop brush you want to use and unzip the file
On your computer, go to the Photoshop installation folder and find Presets> Brushes
Move your downloaded brush file to the folder above
Start Photoshop and go to Edit> Preset> Preset Manager
Click the Load button, find your newly added brush, and click Open. You can also use the Import Preset function to install the entire folder at once. Once you're done, you're ready to use the new Photoshop brush.
To use Photoshop brush, go to Window> Brush
Select your brush and then paint on the canvas. You can adjust the size and shape of your brush in the Brush Settings panel
Now, let's begin!
Free Photoshop Brushes List
Today we take a look at some of the best high-resolution Photoshop brush packs currently available in the design community.
01. Wavenwater Photoshop brushes
Wavenwater Photoshop Brush is a set of artistic brushes and tool presets for Photoshop. You can use these brushes independently in your projects and your creativity runs wild.
Designer: Michael Guimont
Usage: Free for personal use (contact artist for commercial license)
02. Watercolour splatter: free Photoshop brushes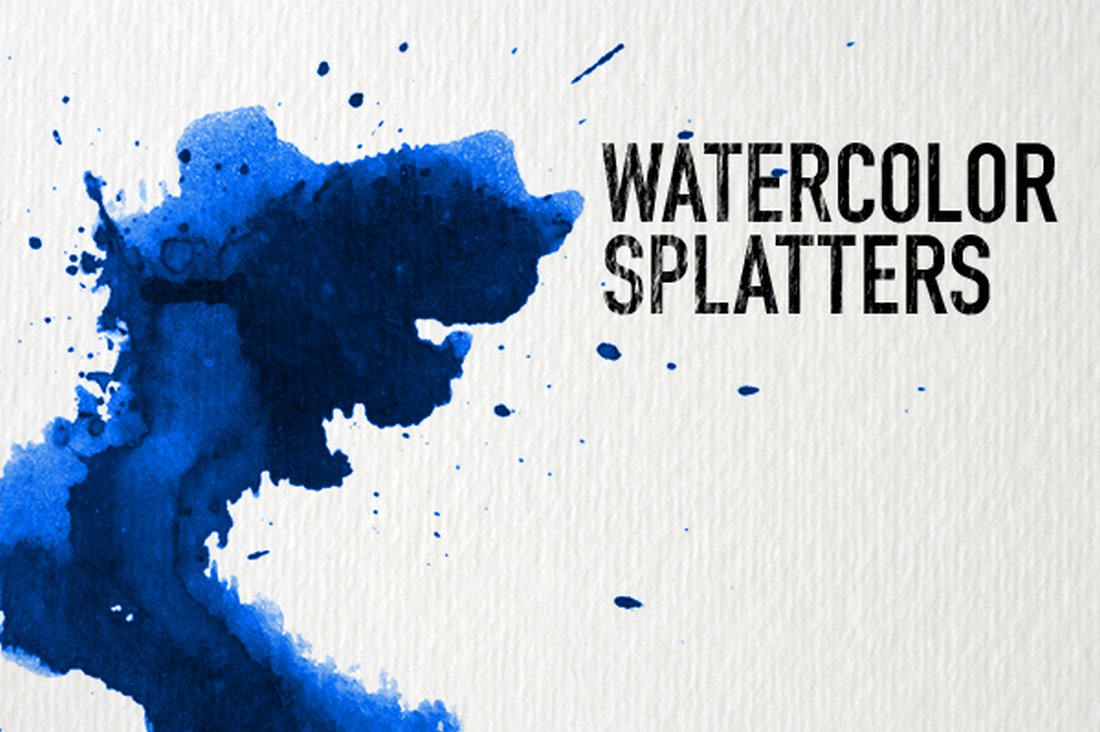 The brushes in this pack are designed using real watercolor splatters and strokes. This pack includes 32 brushes that you can use with commercial projects, and they work with Photoshop 7 as well as the latest versions of the app.
Designer: pstutorialsws
Usage: Free for personal and commercial use
03. Free Watercolor Photoshop Brushes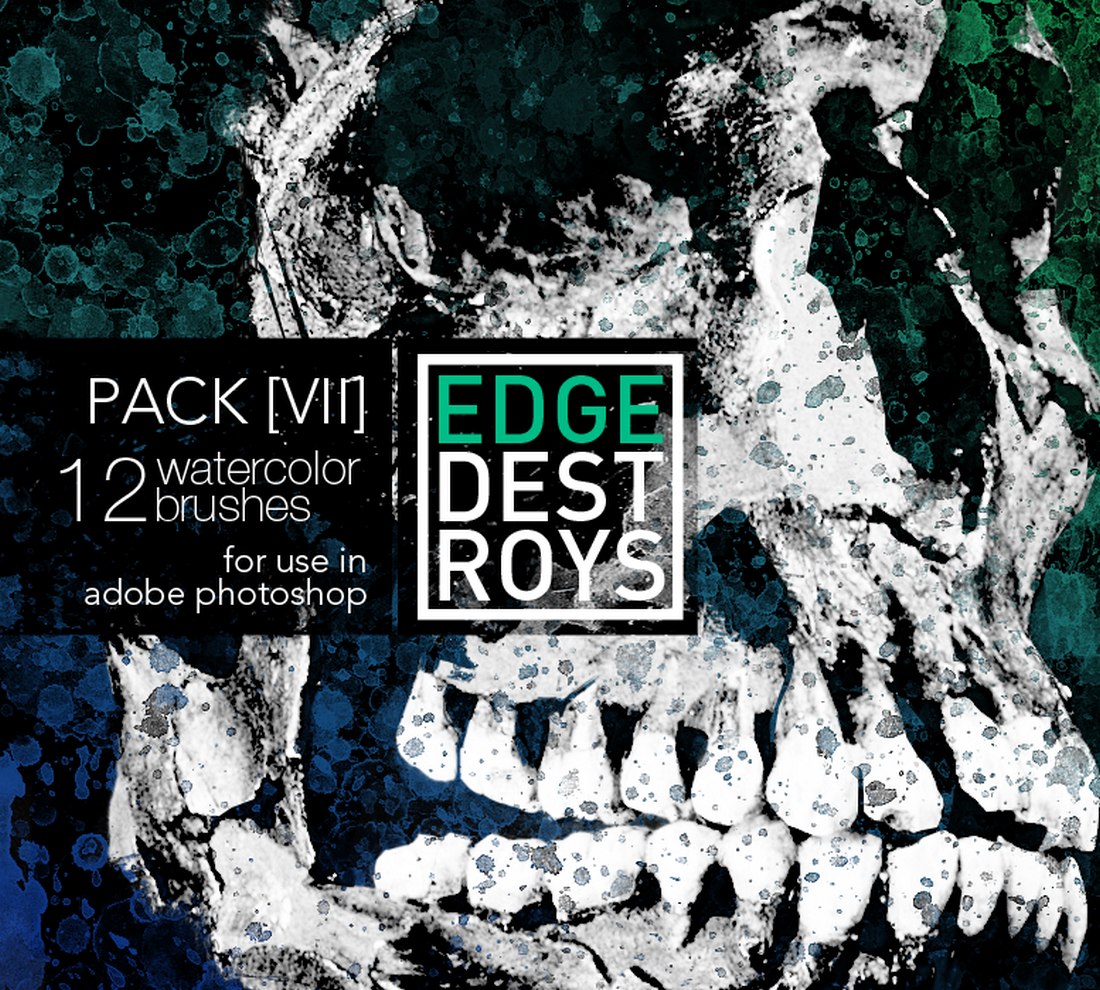 The bundle includes 12 unique watercolor brushes designed by a professional artist. The brushes have high quality designs and are perfect for all kinds of creative projects.
For you>>>>Adobe Photoshop Plugins Free Download | Installation
04. Ink brushes
Here is a designer photoshop brush designed by Brittney Murphy. With the impressive 192 brushes included in the set, you'll find large slabs, thin strokes, pieces of ink, and everything in between. Murphy generously offers these brushes free of charge, although she doesn't ask for them to be re-distributed.
Designer: Brittney Murphy 
Usage: Free for personal and commercial use
05. Pencil Photoshop brush
Create the effect of a soft pencil sketch, but without grub hands and soft paper. This pencil-effect photoshop brush is the most realistic we've ever seen, and you can download it for free on DeviantArt, courtesy of professional digital artist named Andantonius aka Jon Neimeister.
06. Photorealistic Explosion Brushes  
Take your photo to the next level with these photorealistic blast brushes. This pack contains 16 brushes and can be used in personal projects.
07. Free Photoshop brushes: Thick acrylic paint strokes
The second installment of Photoshop brushes free from creative nerds, Thick Acrylic Paint Strokes Volume 2 can quickly add authentic paint effect to your image. These Brushes are free for personal and commercial purposes – but you are not allowed to re-distribute or modify them for resale.
Designer: Creative Nerds
Usage: Free for commercial and personal use
8. Free Digital Painting Brush Set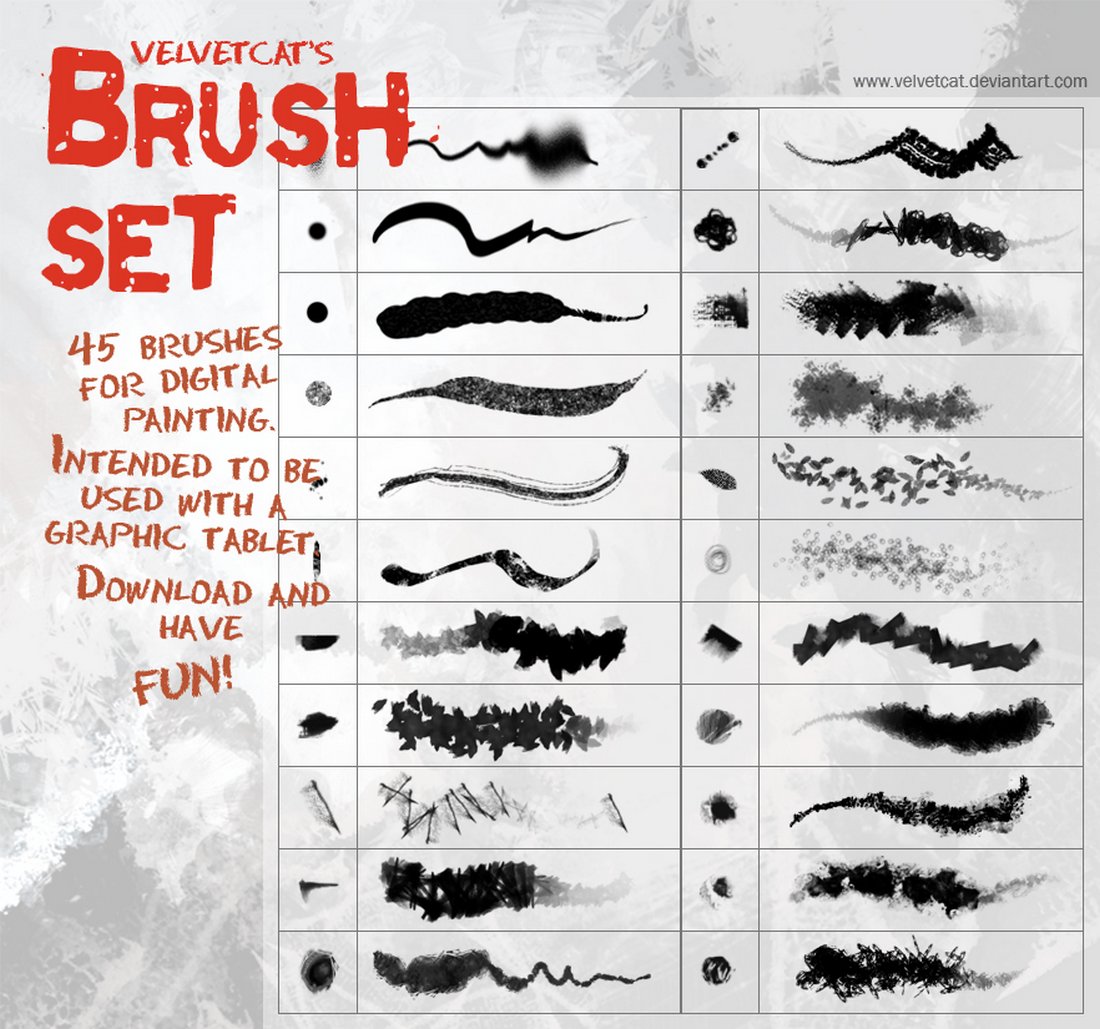 This is a complete set of Photoshop brushes designed for digital artists and designers. Brushes are fully optimized to work with drawing tablets.
9. Dry brush strokes for Photoshop
Dry Brush Stroke is a set of 12 amazing free photoshop brushes from Chris Spooner. These high-resolution dry brushes are amazingly detailed, bristly, and fully textured. There are clever lines and wide edges that are perfect for enhancing your artwork or shaping your edges.
Designer: Chris Spooner
Usage: Free for personal and commercial use
10. Realistic Coal Photoshop Brush
You should know charcoal is an essential part of any artist's toolkit, but it is undoubtedly disgusting to some people. Get these amazing charcoal lines – charcoal effects without getting your hands dirty – with these amazing charcoal brushes.
Designer: WojtekFus
Use: Free for personal and business use
11. Real Markers: Free Photoshop Brushes
Perfect for fashion illustration, industrial design, and storyboarding, these 12 free real marker brushes designed by Eilert Janßen allow you to create powerful images that look like sketched with a marker pen. If you like what you see, you can purchase Janßen brushes on his official website.
Designer: Eilert Janßen
Use: Free for personal and business use
12. Furry Watercolor Photoshop Brushes
If you want to create a soft, smoky look in your work, try this free furry watercolor photoshop brush from Heygrey. It is described as a 'furry watercolor brush' and manufacturers use it to create a vague background. We were particularly impressed with the realistic watercolor effect achieved here.
Designer: Heygrey
Use: Free for personal and business use
13. Watercolor Photoshop Brush: Spray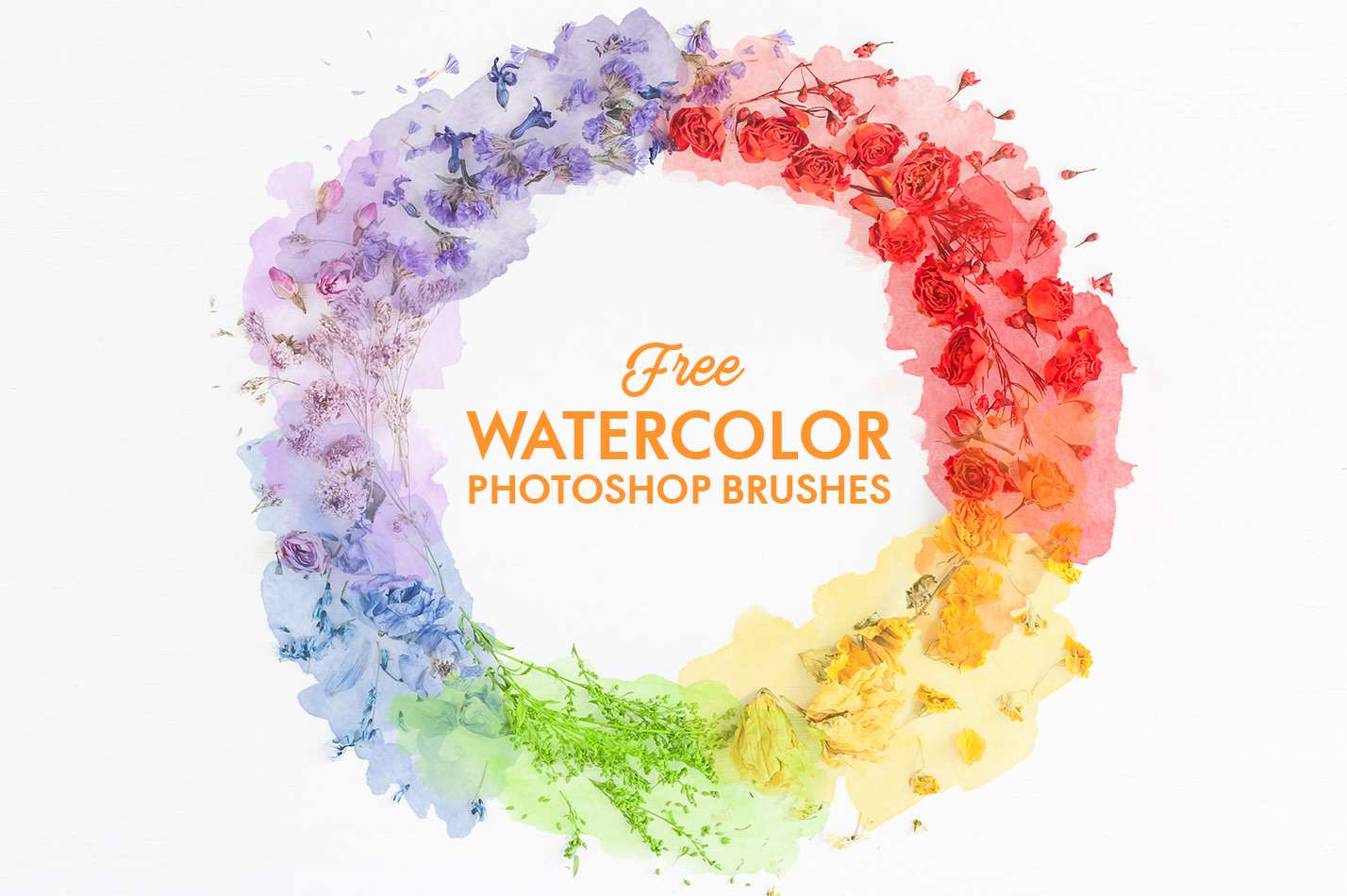 This oversized watercolor spray photoshop brush can be used to create watercolor spray effects in your digital artwork. The Creator has achieved an impressive standard effect, which you can easily apply to your own artwork.
Designer: Creative Nerds
Usage: Free for personal and business use
14. Free Thin Smoke Brushes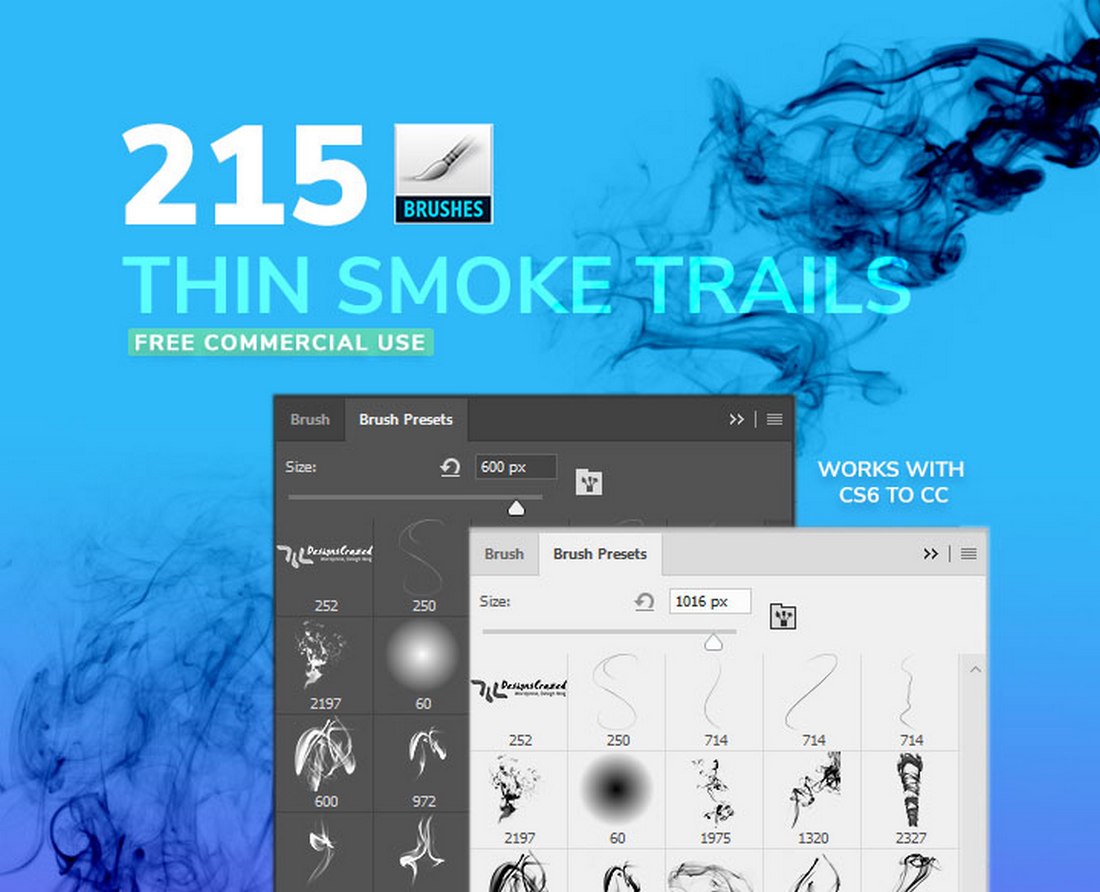 This is a huge bundle of free Photoshop smoke brushes that you can use to create realistic smoke effects. All brushes are completely free to use with your personal and business projects.
If you are working on an oil painting style design, these free Photoshop brushes are perfect for you. It contains a set of high-quality brushes that are compatible with Photoshop CC.